Italy Part 1 - We have arrived!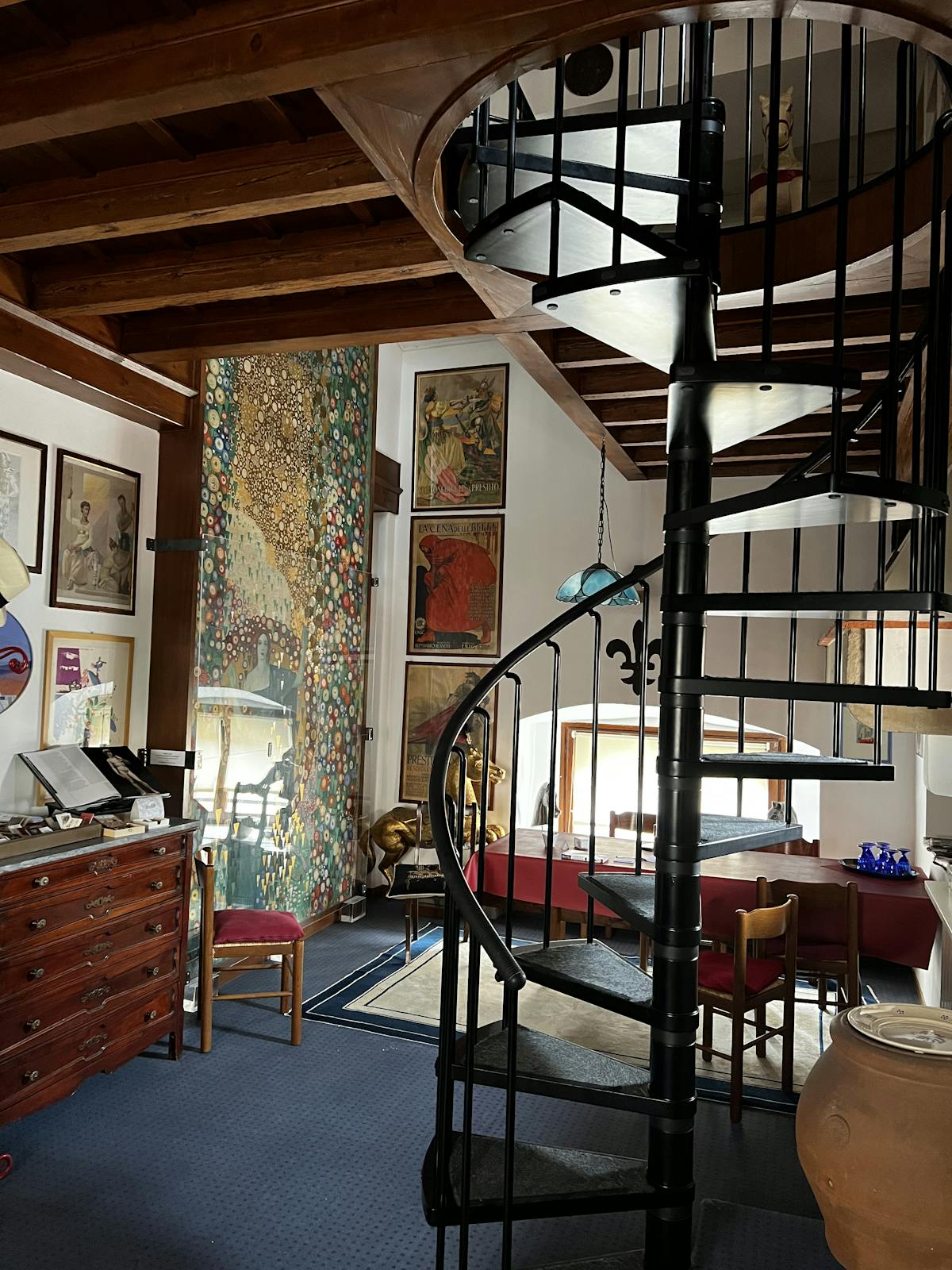 From the words of Kristie Campbell...
How can I begin?
To even try and put our Italian experience into words feels futile and unsatisfying. There aren't enough words in the English language nor any other to describe what we saw, heard, felt and tasted. The memories are a kaleidoscope of colors and sensations. The beauty we encountered on this journey was almost an assault on my sense of the world. Seeing the Duomo in Florence for the first time was like a smack in the face. I think I would have been less surprised to see a UFO land in the square than I was to see that inconceivable creation. Its existence is impossible, its construction absurd, yet there it is, undeniable and vibrant in my memory. I could write about that one moment in time for a month yet we had almost a month of experiences and no one has that kind of attention span in this day and age, so let's begin…
Part 1. Why Traveling is Always Best with a Sense of Humor
Travel is a hot mess express these days and our path was no exception. They canceled our flight from Champaign to Chicago so Niall, Camden, Katie and my Mom, Carrie, dropped two cars at the CMI airport and hopped in a black car to Chicago. The flight to Bologna was uneventful but on arrival, things started to get squirrely again. As we entered the baggage claim area the atmosphere was tense and there were people asleep next to their baggage carousels, not a great sign. Needless to say we were thrilled and happily surprised when after only 30 minutes the bags from our flight began to show up, well, some of the bags at least. Katie and Niall scored, Camden, me and my Mom were not so well favored by the travel Gods.
The walk to the lost bags office did not bolster our jetlagged spirits. The walk required us to thread our way through a SEA of lost luggage. I have done a lot of traveling in my life and I have never seen anything like it. Looking out over the expanse of lonely Tumis and Samsonites, I took a deep breath and accepted the fact that it was very unlikely we would see our bags again. Thankfully my assistant recommended I pack a carry on with important things so it was not a total loss. The woman behind the counter informed us that the bags were in Madrid and would arrive on the 8pm flight. I wasn't holding my breath, nor was I thrilled about the schlep back to the airport when I was hoping for an early night. Ce la vi.
The drive to Florence was spectacular while we were above ground. I have never driven in tunnels that long, engineering marvels that obstructed the views. Arriving in the old part of the city was a time warp; craning our necks, eyes wide with wonder, we were doing all we could to take it in when all of the sudden Niall rolls down his window and yells, 'David! Casey!' No joke, we randomly ran into our friends David and Casey Duncan who would be traveling much of the adventure with us. They had arrived a few days earlier and this random meeting was hilarious. After a quick hug and high five and we were off again on the way to our Airbnb.
Those who know me well, know I don't mess around with lodgings. I spend hours scouring Airbnb, VRBO and boutique hotels, this trip was no exception. Over the course of our 3 week trip, I booked 3 different Airbnb's and to pat my own back, I CRUSHED IT. These incredible spaces so far exceeded any expectations we could have had. I am still shaking my head over how amazing they all were. We are so excited to share the links with all of you and highly, highly, HIGHLY recommend booking them in your travels.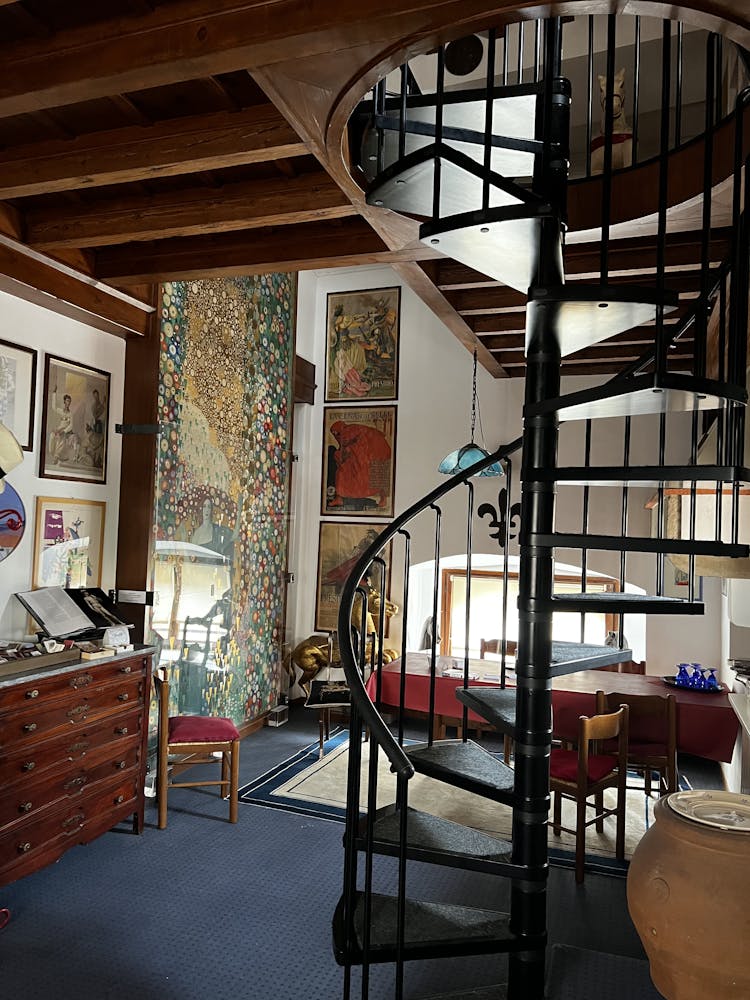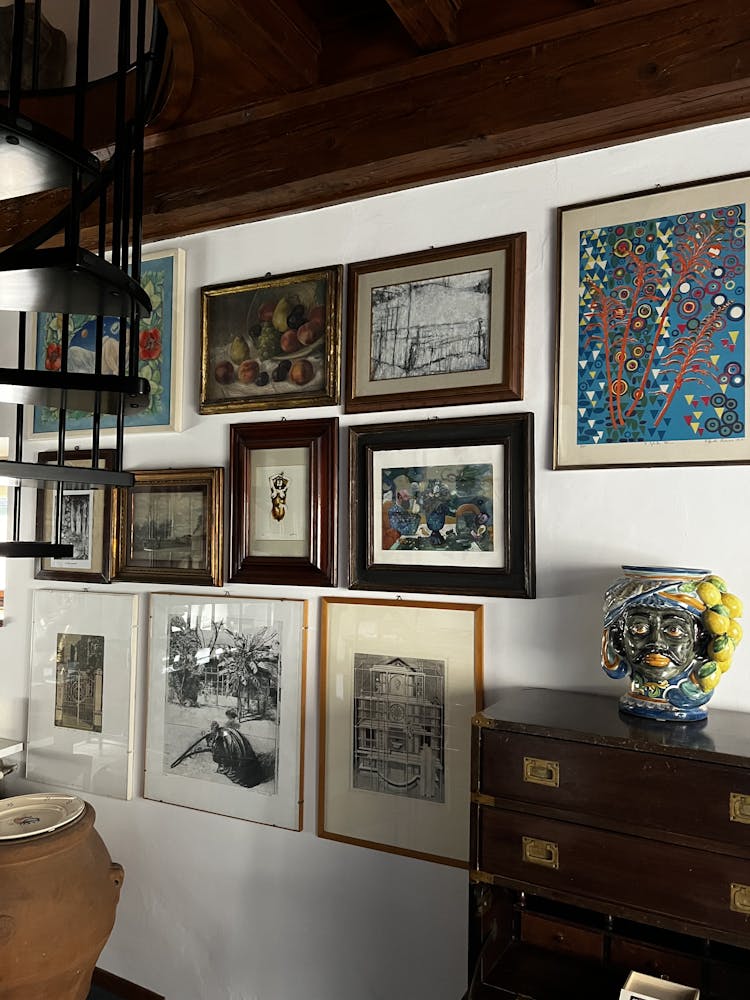 We got a great rate that worked out to roughly $75 per person per night. The apartment was in an old building where Mozart stayed in the late 1700's. Filled with museum quality art, four bedrooms, three baths with a roof deck looking directly at the Duomo, stunning does not do Crest House justice. The place even had an elevator.
In a fortuitous turn of events, we needed to wait for Mattio who would be checking us into this incredible apartment so decided to sit for a bite at the restaurant out front. I had no idea I would be sitting down to eat the best carbonara I have ever had in my life. (*At least I thought, a really cute local chef I know has since topped it. Wink wink*)
Our travel weary crew was awakened by all the impossible beauty that surrounded us. We dropped our bags and hit the time capsule streets that looked painted and two dimensional at first glance. Niall and I drank teeny tiny italian coffees and mentally prepared ourselves for the journey back to the airport and the likely disappointment that awaited us there. I had asked if we could come back the following day so we could get some rest and confirm the bags were there before going all the way back to the Bologna Airport from Florence but I my hopes were dashed when I was informed that the airport is closed on Sundays.
We made our way to the train station, figured out the first leg and boarded the train. Our second leg involved a mad dash to the next train not knowing the airport trains come and go every 10 minutes until 9pm. We arrived at the airport at 10 past 8, the line was long but not as long as the faces. We watched as those ahead of us, many who had returned for a second or third time, were turned away empty handed. Things did not look good. Having noticed a grocery store on the way in, I excused myself from the line and raced over before it closed at 9. I bought a bottle of Chiant with a screw top and some plastic cups. This was going to be a long night.
Seventy-five minutes, one Karen and a ½ bottle of Chianti later, we emerged victorious! Having tamed the Karen and befriended the nuclear physicist behind us, we exited the office to cheers of congratulations and well wishes.
We exited the airport and retraced our steps back to the Airbnb. As we rounded the corner, we could see that they were closing our beloved restaurant Osteria Dell'Olio.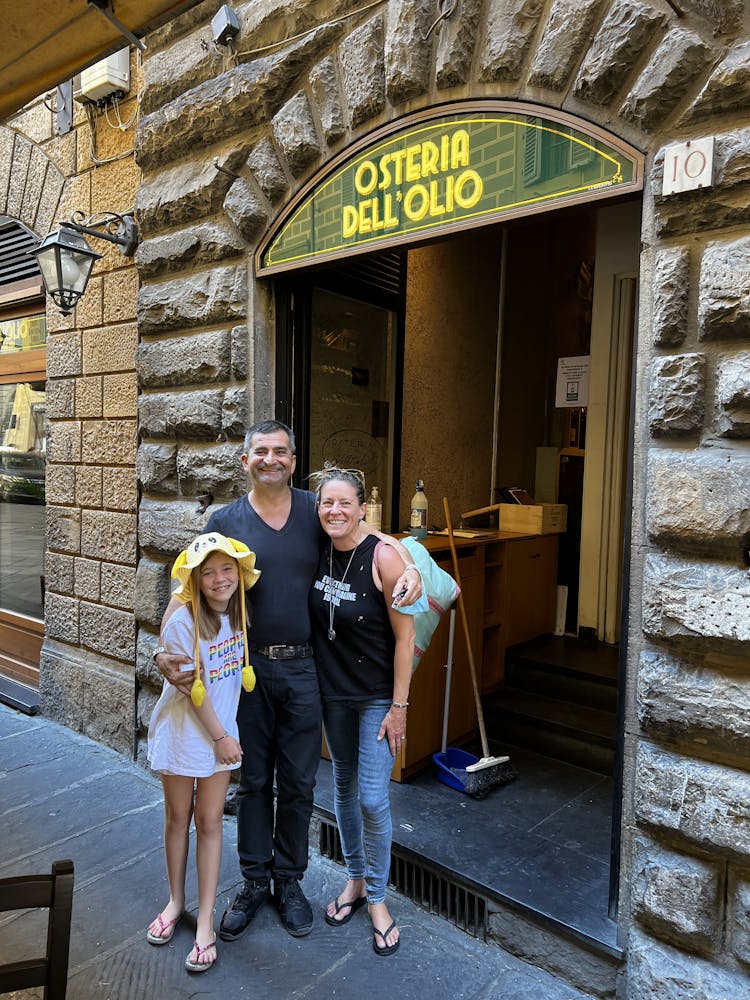 Don't listen to the online reviews, this place is wonderful! Amedeo may be one of the most charming servers we have ever had the pleasure of eating with. The minute he saw us, he immediately ran to the kitchen to ask if they could squeeze in one more flight. What a gift. What a night. We bought the staff drinks and sat together talking while enjoying more of the best carbonara in Florence and a dish of fresh pasta over prosciutto and black truffles that to this moment makes me swoon. It was Niall's favorite dish in Florence. Though the ingredients were rich, the balance was exceptional and the heady smell, texture and taste of fresh black truffle pulled this creamy masterpiece together as one teases a sculpture out of stone. One wrong stroke and the artist is forced to start again. One of Niall's classic teachings is, 'you can always add more but you can never take back out.' Lack of patience seasoning a dish can ruin it in a heartbeat.
Bottom line, the restaurant Gods had shone upon us that night, our gratitude was much and that memory is cherished.