Italy Part 4 - The Outlandish Amalfi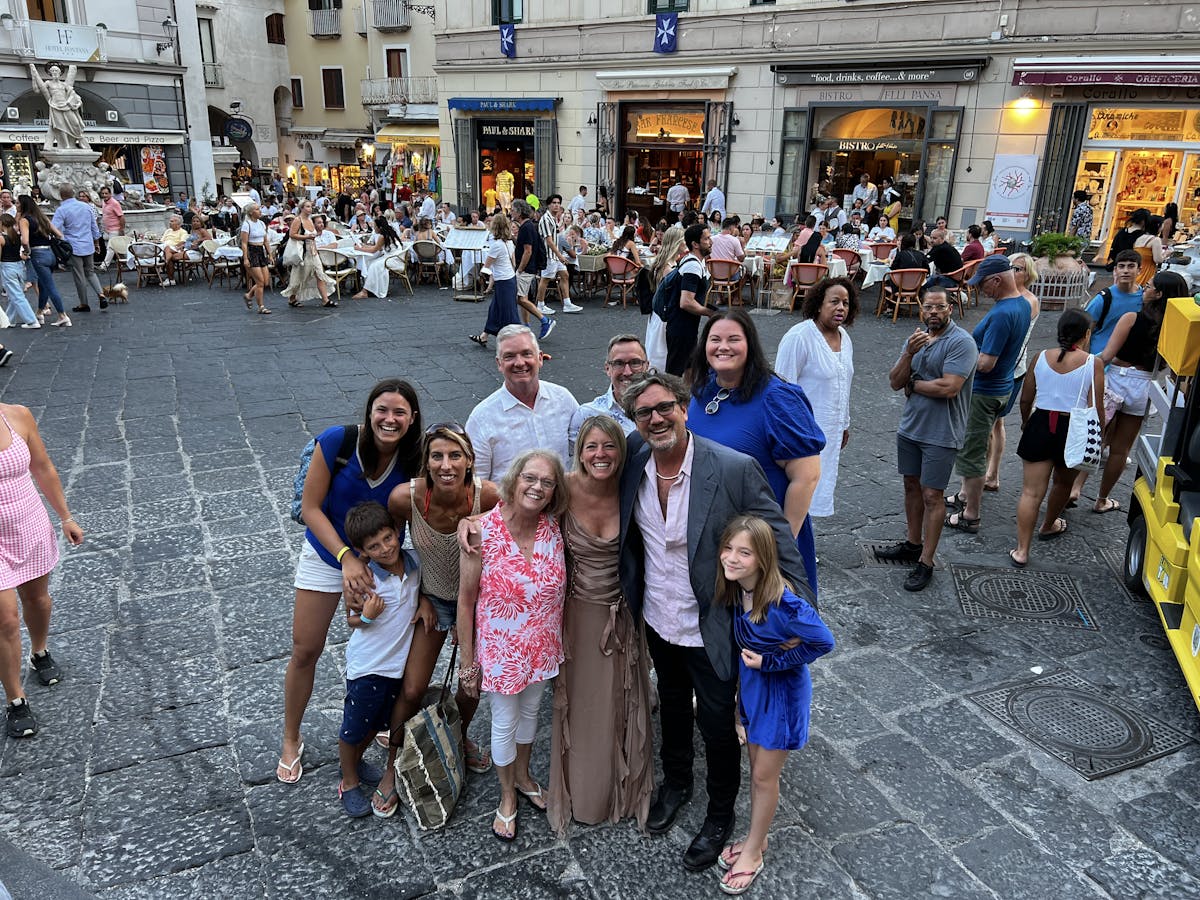 The next day we were headed to the famous Amalfi Coast...
One of the saddest things about the US is our failure to invest in high speed railways. There are a few on the east coast but if we were smart, they would dominate travel across the country. Sustainable, comfortable, hassle free compared to air and fast. A Chinese Bullet rail could take us from Chicago to NYC in 5 hours, can you imagine the commerce? The reduction in fossil fuels? No baggage claim or missing luggage? No weather cancellations or sitting on the tarmac?
When my assistant booked our rail transfers from Florence to Naples it was relatively inexpensive to upgrade, so we did. We had no idea it would result in our very own railcar fit with a private bathroom, board room and meal service. It was a bit ridiculous but I would be lying if I said we didn't all love it. Three hours of luxury at speeds of up to 220 miles per hour, what would have taken 6 to 7 hours in a car, took us only 3 by rail.
Pictured is Niall and I having a "very important meeting" ha.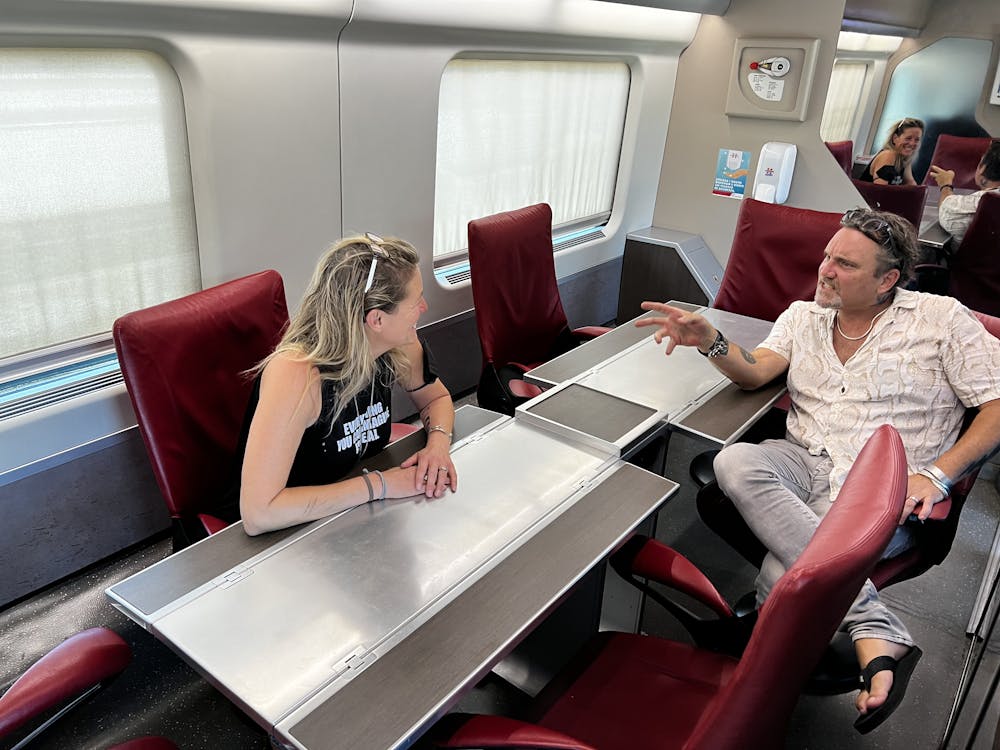 We arrived in Napoli, met our driver and headed for the coast. We should probably have taken a break between the train and the drive, the hour of switchbacks in a stuffy van did not do wonders for several of our voyagers. Katie was green when we finally arrived at our Airbnb and Camden was threatening to puke. All that changed when we exited the vehicle and saw where we were standing, no one felt anything but a sense of wonder and gratitude.
Here's the link to our second Airbnb in Amalfi
The beauty of the Amalfi Coast and the Milky Mountains cannot be described, it can only be experienced. Its very existence is a miracle. The villages cut into the sides of cliffs that have stood thousands of years in spite of earthquakes, eruptions, wildfires and landslides are a marvel, pun intended. Driving on those roads I felt like Quill cruising across Ego's planet with Hare Krishna playing in the background and my jaw in my lap.
We were greeted with homemade lemonade by our host, Cheerio upon our arrival. It was delightful...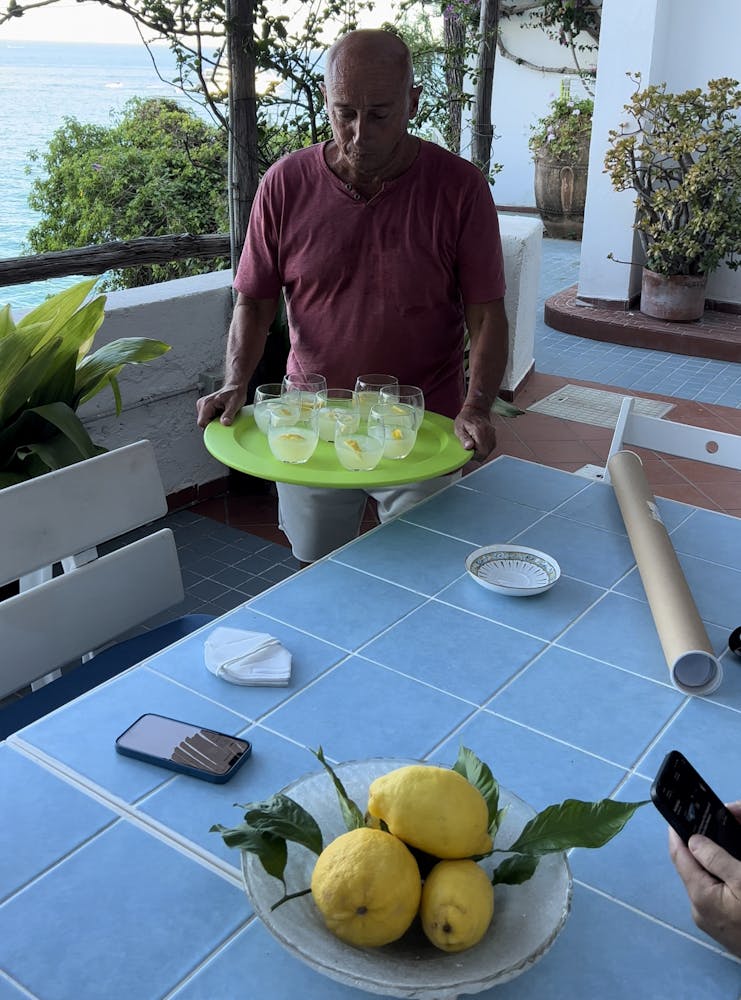 Some of the best views and food are blended in these tiny villages. The first night we ate dinner in Amalfi at the Duomo Terrace. The food and the view were enough to bring tears to my eyes. Where do I begin? The Grilled octopus and artichokes served with a warm potato foam, the ? to start to our breaths away.
Riley had the Vicidomini's linguine pasta with local lobster and cherry tomatoes for his second course and the look of joy on his face was priceless. My Mom had the paccheri pasta stuffed with burrata and black truffle in a conch and cherry tomato sauce which was her favorite meal in all of italy. Niall tasted it all, I could see that wheels turning in his head as he studied each dish and flavor profile. Duomo Terrace's food is exemplary, we look forward to our return.